A man identified as Femi Aluko has died after he reportedly drank four cartons of beer in Shasha, a suburb of Lagos, western Nigeria.
P.M.NEWS gathered that some people donated the cartons of beer to Aluko who boasted that he could consume that quantity.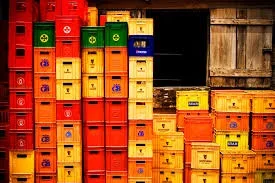 But after Aluko reportedly drank the four cartons of beer, he became terribly drunk, lost control and fell into a gutter while he attempting to go home.
The incident happened on Thursday evening at a popular restaurant. After he fell into the gutter, non of the residents who saw him tried to rescue him. He was found dead in the gutter the following morning.
According to residents, the late Aluko was known in the area as a drunk.
A resident, Mrs Nike Salawu said the late Aluko had financial and family challenges for several years, which led him into heavy drinking of alcohol.
She said some of the residents had tried in the past to persuade him from drinking but he refused.