One Saheed Musiliu was yesterday arrested with a human head he severed from a corpse buried at the back of Basic Community Primary School in Olomi area of Ibadan, Oyo State. He was apprehended by some community members who noticed his suspicious movement.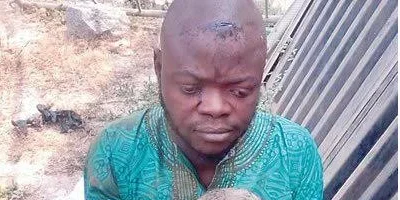 The police was called in to arrest him. However as he was about to be driven to the station, hoodlums blocked the road, demanding that jungle justice be meted on the suspect.
A reinforcement from the police saved the day as the hoodlums destroyed the police van and also attempted to burn the van down. When interrogated, the suspect confessed to the crime, saying he was meant to deliver the human head to intending money ritualists.
According to him, this is his second time of engaging in such act. He is currently being investigated and detained at the State Criminal Investigating Department.
See his fill photo below: