A 27-year-old man is facing a jail term for insulting the King of Thailand's dog, the AFP reported.
Thanakorn Siripaiboon has been charged by police with lese majeste for a "satirical" Facebook post about the king and his dog, his lawyer Pawinee Chumsri told the AFP.
Lèse majesté is the crime of violating majesty, an offence against the dignity of a reigning sovereign or against a state and it has been prohibited by the law of Thailand since 1908.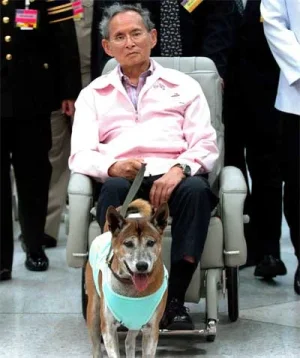 Chumsri was quoted as saying, "There was a post including three photos on his Facebook page on December 6 with a message that satirised the king s dog."
Apart from being charged for insulting the king's dog, Siripaiboon also faces charges of sedition and computer crimes for clicking "like" on a doctored photo of the king and sharing it as well as an infographic on a growing corruption scandal engulfing the junta.
Thailand has one of the world s harshest royal defamation laws. Anyone convicted of insulting the revered but ailing 88-year-old King Bhumibol Adulyadej, or the queen, heir or regent can face up to 15 years in jail on each count.
Prosecutions have soared since the army, which styles itself as the champion of the monarchy, grabbed power in a coup last year.
- PUNCH