Nigerian Labour Congress at yesterday's May Day celebration, told President Muhammadu Buhari that workers and ordinary Nigerians were beginning to lose faith in the change mantra of the All Progressives Congress, APC-led Federal Government.
NLC, and the Trade Union Congress of Nigeria, TUC, were unanimous in condemning increasing poverty, unemployment, insecurity, erratic power supply, fuel scarcity, and called on government at all levels to urgently address the mounting hardship and frustration in the country.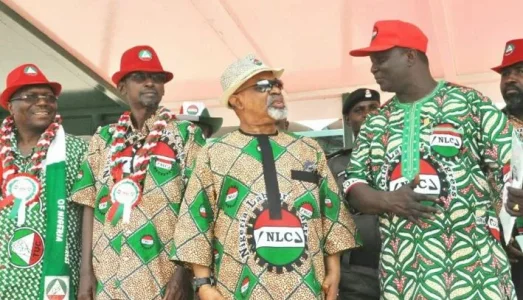 Addressing the gathering at Eagle Square in Abuja, factional leader of the NLC, Wabba, urged the President to provide people-based actions and programmes and not elitist programmes. He said the government should come up with discernible strategies and directions that would tell Nigerians where his government was headed economically.
The President, however, assured workers and Nigerians generally that his government was determined to tackle, headlong, all socio-economic ills troubling the nation. He said the government would evolve solutions to emerging threats to the well being of the people and the realization of sustainable development as well as growth anchored on equity and social justice.