Mohammed Ali is arguably the world's greatest boxer ever and most definitely the world's most famous boxer.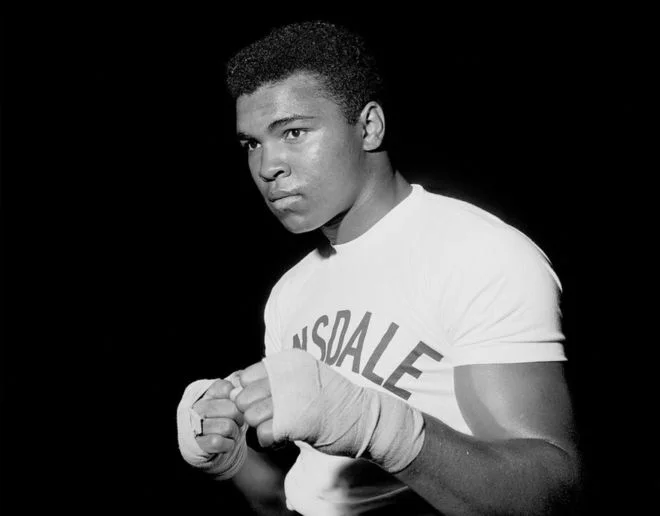 Here are 15 things everyone should know about him:
Ali was born Cassius Marcellus Clay, Jr., on January 17, 1942
He had a sister and four brothers
Ali was married four times and had seven daughters and two sons.
He converted to Islam in 1975, ditching what he perceived was his "slave name" and becoming Cassius X and then Muhammad Ali.
He shot to fame when he won Olympic light-heavyweight gold in 1960
He turned professional that year and was world heavyweight champion from 1964 to 1967, 1974 to 1978 and 1978 to 1979
He had 61 professional bouts, winning 56 (37 knockouts, 19 decisions), and losing five (4 decisions, 1 retirement)
Ali is famous for his pre-fight talks. He named himself "The Greatest," "The People's Champion," and coined the "float like a butterfly, sting like a bee" quote. He is generally referred to as "the King of Trash Talks" by the media as he taunts his opponents and predicts the rounds in which he'll knock them out sometimes.
He was handed his first professional defeat by Joe Frazier in the "Fight of the Century" in New York on 8 March 1971. He regained his title 3 years later, knocking out George Foreman in Kinshasa, Congo.
In 1967 he opposed the US war in Vietnam, a move that was widely criticised. He also refused to be drafted into the US military and was subsequently stripped of his world title and boxing licence. His conviction for refusing the draft was overturned in 1971.
His career ended with one-sided defeats by Larry Holmes in 1980 and Trevor Berbick in 1981. Many people were of the opinion he should've retired long before.
Soon after his retirement, his health degenerated with his speech becoming slurred. He was later diagnosed with Parkinson's Syndrome.
He however kept public appearances. He lit the Olympic cauldron at the 1996 Games in Atlanta and carried the Olympic flag at the opening ceremony for the 2012 Games in London.
His health further degenerated with a respiratory problem.
He died on June 3, 2016, aged 74.