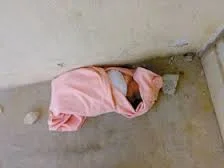 According to
Leadership Newspaper
, an unknown woman in Bauchi metropolis has abandoned her newly-born baby barely few days after birth.
The incidence which took place at the residence of one Halima Idris behind Steyr Nigeria Ltd office in Bauchi, culminated in living the newly- born baby boy in the hands of the lady who was asked by the mother of the baby boy for assistance.
Narrating her ordeal to newsmen, Malama Halima Idris, said she was approached in her matrimonial home by the mother of the baby who requested her to keep the baby for her to enable her show the direction of the house to her friends who reached the area on different times.
She added that after several hours of waiting, her husband took the child to the ward head of the area who decided to adopt the little poor boy.
Halima used the medium to call on women particularly those in purdah to be vigilant even in their respective homes and avoid hosting women they don't know without the knowledge of their husbands.
While at the residence of the ward head, Malam Hassan Hussein, the community leader explained that he had decided to voluntarily adopt the little boy as part of his humanitarian gesture of supporting abandoned and the less privileged children in the society.