Nigerian Naira on Tuesday advanced 1.4% to 315.75 to a dollar at the inter-bank market at mid hour trading in Lagos, the commercial nerve centre of the nation.
According to data compiled by Bloomberg, Naira 3-month non deliverable forwards fall 0.1% to 349 to United States dollar.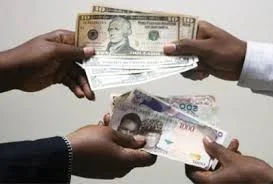 Meanwhile, Godwin Emefiele has reacted to the recent criticism of CBN's forex policy by ex governor of the apex bank, Emir of Kano Muhammadu Sanusi II.
"It is easy to criticise from outside but my advice is not to sit back in a garden and call press men and begin to raise criticisms that are untrue and unsubstantiated," Godwin said while delivering a lecture at the National Institute for Policy and Strategy Studies (NIPSS), during the weekend.
"We need advice of former CBN governors, there are channels they can use but not sit in their garden and call pressmen to raise criticism and say what is not true." he added.
Emefiele Knocks Emir Sanusi For Criticizing CBN Forex Policies