Aggrieved Senators elected under the platform of the People's Democratic Party (PDP) who staged a walk-out on Wednesday returned to plenary on Thursday.
For about five minutes, the Senators led by Minority Leader, Senator Godswill Akpabio did not enter the chamber after Senate President, Dr Bukola Saraki's process was already in the Red Chamber.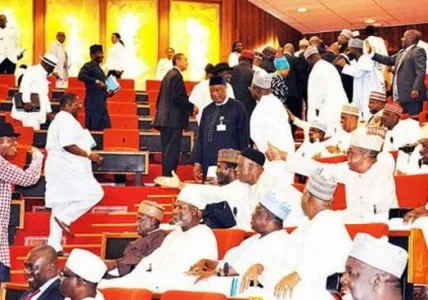 Though, Deputy Senate President, Ike Ekweremadu, also a PDP Senator, joined Saraki's process, others were nowhere to be found in the chamber, raising the concern that the aggrieved Senators might boycott today's plenary again.
The Senators had on Wednesday staged a walk-out over Omogunwa's defection from PDP to APC.
Speaking at the plenary, Deputy Majority Leader, Senator Bala Na'Allah thanked the opposition members for returning after a thorough meeting with the leadership of the Senate.
Related: PDP Senators Stage Walkout After Defection of Ondo Senator, Omogunwa