Men of the Nigerian police force in Ebonyi State on Thursday attacked and beat up members of the Nigerian Labour Congress, NLC, who staged a peaceful protest in the state against the increase in pump price of petrol by the federal government.
According to Premium Times, the workers were intercepted by a team of police officers who attacked them near Pastoral Centre along the Abakaliki-Enugu Expressway as they were on a peaceful protest.
It was learnt that the Police teargased the workers ceaselessly and beat up leaders of the union including the state chairman, Ikechukwu Nwafor, who was seen rolling on the ground as the police officers kicked and beat him.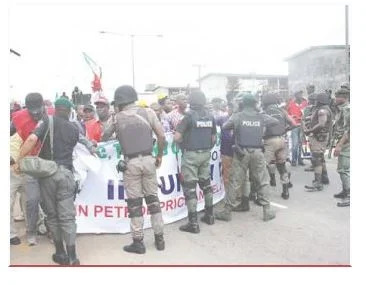 He was later bundled into a waiting white Police Hillux van by four police officers and taken to the Police Headquarters in Abakaliki alongside about 15 other labour leaders.
The police claimed the workers did not obtain clearance to carry out the protest, an allegation debunked by Mr. Nwafor
The police commissioner, however, denied that the workers were attacked.
Source: PremiumTimes