The Federal Government has reportedly taken over financially distressed Arik Airlines.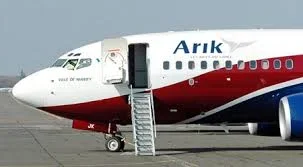 PREMIUM TIMES reports that the management of the Asset Management Corporation of Nigeria, AMCON, said the decision to intervene clearly underscores the government's commitment to instill sanity in the country's aviation sector to prevent a major catastrophe in the country.
"The development will afford Arik Airlines, which is the largest local carrier in the country, to go back to regular and undisrupted operations, avoid job losses, protect investors and stakeholder funds as well as ensure safety and stability in the already challenged aviation sector," AMCON spokesperson, Jude Nwauzor, said.