Passengers of Bristow Helicopters in Port Harcourt, Rivers state were left stranded as the National Association of Aircraft Pilots and Engineers of Nigeria an affiliate of Trade Union Congress, TUC, as early as 6:30am stormed Bristow Helicopters and shut down all its offices in Port Harcourt thereby grounding all flight schedules today.
NAAPEN, Isaac Balami led the protesters along side national officials and the state Chairman of TUC to shut down the operations of Bristow Airlines in Port Harcourt.
The NAAPE said that the two-day warning strike was over alleged pay disparity between expatriate and Nigerian pilots.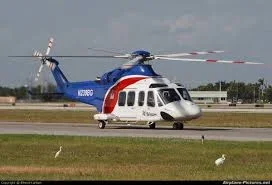 According to Balami "For the past ten years our pilots and engineers working with Bristow Helicopters have suffered untold hardship due to discriminatory and slavish policies of the management of Bristow Helicopters. They treat them like they are in a slave camp. You will see a co-pilot who just has 200hrs experience from UK, South Africa and Canada earning far more than their Nigerian counterparts who have been working for years.
"Nigerian pilots and engineers are treated like slaves in their own country. A job that a Nigerian can do they sack him and give it to a foreigner and pay him more. They have been sacking our co-pilots and the employing white men. We are even more competent than them. Today no helicopter of Bristow will fly until the Managing Director comes to answer us. We have also discovered that the management do not care about the welfare of workers. So before it becomes a safety issue they must come and hear us."