Father of the leader of the Indigenous People of Biafra, IPOB, Nnamdi Kanu, His Royal Majesty, Eze Israel Okwu Kanu, has berated Igbo leaders for not committing themselves to the struggle for Biafra.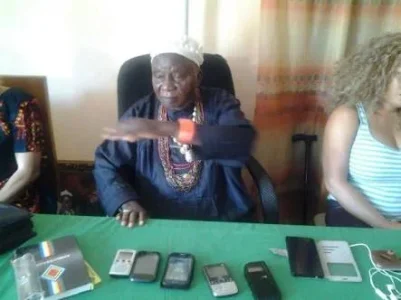 Recall that Kanu was arrested by operatives of the Department of State Services, DSS, in 2015 in Lagos and has been incarcerated ever since.
Speaking with The Sun, the Afara Ukwu, Ibeku monarch also frowned at the silence of Igbo leaders over the incarceration of his son.
Stressing that his son was fighting a just cause, the monarch expressed surprise that Igbo leaders, especially the Abia state government have abandoned.
He said: "When I heard that the former Governor of Abia State, Dr. Orji Uzor Kalu visited my son in prison in Abuja, I was happy. This projects him as someone who loves his people and development. He is a man of the people. The young man (Kalu) equally surprised me when he came to my palace during the Christmas and New Year break to see me.
"I am surprised that apart from Orji Uzor Kalu, no other Igbo political leader has visited Nnamdi in prison and nobody is talking. I wouldn't know if this could be attributed to fear. Some months ago, you heard of what happened at Aba where some people holding rally were shot dead and nobody said anything and this is not good.
"Even in their own reasoning, Nnamdi had not done the wrong thing, that shouldn't have stopped them from visiting him and showing him brotherly love as Kalu did. Igbo leaders have not indeed shown commitment to the Biafra struggle. I do not know the reason for their action except that they are afraid of their investment outside Igboland, which they will not carry to their graves when they die.
"I am also worried to an extent that the Abia State government is also feeling indifferent about Nnamdi's problem. As an Abian, one would have thought that the state government would have come out openly to say something, not to talk of visiting him in prison, but these things are not forth coming."