Heavy security presence at the Federal High Court, venue of the trial of the leader of the Indigenous People of Biafra, Nnamdi Kanu.
Mr Kanu, and three others, David Nwawuisi, Benjamin Madubugwu and Chidiebere Onwudiwe, are accused of treasonable felony.
The judge, Binta Nyako, had ruled in December that witnesses would be allowed some degree of protection.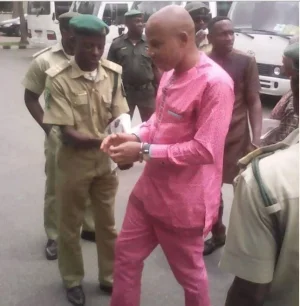 "The counsels and the defendants will see the witnesses. The witnesses will have special entrances to and outside the court," the judge said.
According to Premium Times, the officers working for the court said they had orders not to let journalists in, except those with Federal High Court tags.
Some journalists were later allowed in after Mr. Kanu's lawyer intervened.
- Premium Times