An Igbo socio-activist group, the Igbos for Nigeria Movement [INM], says it has uncovered the person behind the recent Monkey Pox vaccine hoax with sole aim of causing disaffection between the Military and the residents.
According to National President of the INM, Mazi Ifeanyi Igwe, the person behind the rumours is Emmanuel Kanu, the younger brother of the leader of the now proscribed Indigenous People of Biafra [IPOB] Nnamdi Kanu.
Mazi Igwe says Emmanuel is the faceless person behind the hoax that has caused serious disaffection between the Military and the people of the South East region of the country.
The group has, therefore, urged the Federal Government through law enforcement agencies to stop IPOB from continuing to create panic across the country even after it has been outlawed as a terrorist organization.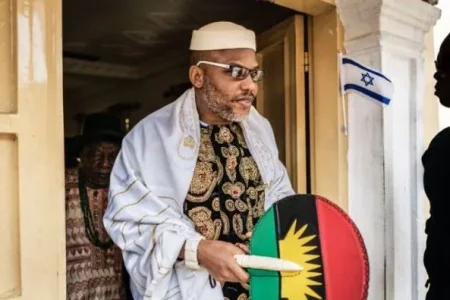 INM further demanded a thorough investigation of any financial transactions between people of Igbo extraction in government and IPOB since this would amount to financing terrorism.
Mazi Igwe who spoke in Abuja at a press briefing on Wednesday, October 17, 2017, lamented that the latest round of propaganda by IPOB spokesman, Emma Powerful, has also done untold damage to the Igbo cause with his allegation that soldiers were forcefully injecting students with virus as the fear of vaccines created by the hoax could potentially make parents avoid life-saving vaccinations.
Mazi Igwe called on relevant security agencies to unravel the true identity of whoever is posing as Emma Powerful since no such entity has ever come forward at any of the various fora that had been convened to discuss the marginalization of the Igbo nation.