The Nigerian National Petroleum Corporation said 1,194 trucks of petrol were loaded nationwide on Tuesday.
This is contained in the corporation's Premium Motor Spirit (PMS) daily supply nationwide schedule released in Abuja.
According to the statement, twenty one import vessels laden with a total volume of 844.1 million litres have been confirmed to arrive in the month of April for NNPC.
It added that the NNPC and marketers vessels were currently discharging at various depots and jetties nationwide.
It noted that NNPC import and shuttle vessels had been programmed to do Ship-to-Ship (STS) Operation for onward discharge to Inland Depots.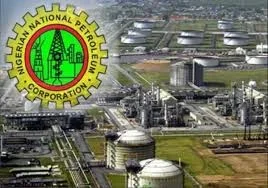 A breakdown of the supply indicated the following:
Lagos got 467 trucks (15,411,000 litres);
Abuja, 141 trucks (4,653,000 litres)
Kano 23 trucks of 759,000 litres.
PortHarcourt, 29 trucks (957,000 litres);
Kaduna, 36 trucks (1,188,000 litres)
Ebonyi received four trucks of 132,000 litres.
Ondo received 15 trucks (495,000 litres);
Sokoto, eight trucks (246,000 litres)
Borno seven trucks of 231,000 litres.
Cross River got 16 trucks (528,000)
Plateau nine trucks of 297,000 litres.