Fourteen out of the twenty-six Ondo State House of Assembly lawmakers on Friday evening sacked their speaker, Rt. Hon. Jumoke Akindele over alleged N15million naira fraud.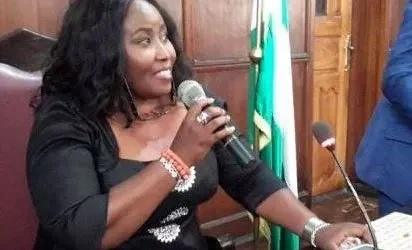 But sources within the information unit of the Assembly, who spoke with Daily Post in confidence said the embattled speaker was only "suspended."
The sledge hammer was not only on the speaker as other principal officers, including the Deputy speaker, majority leader and others were also sent packing by the legislators.
The aggrieved lawmakers have also appointed an acting Speaker, Mr. Malachi Coker, from Ilaje constituency II, while Hon. Ayodele Arowole from Owo state constituency I was picked as his deputy.
Also, Hon. Olamide George from Akure north State constituency has been appointed as the Majority leader.
The suspension followed an incident, where the house paymaster was allegedly caught by members of the assembly with the sum of N15million at the premises of the Assembly.
When confronted, the paymaster said he was acting on the instruction of the suspended speaker, Princess Jumoke Akindele, who ordered him to bring the money to her residence.
The house which eventually sat at about 5pm moved that the leadership under Akindele had failed, as the lawmakers were not aware of the approval of the said sum.