Acting President, Yemi Osinbajo, on Monday said that President Muhammadu Buhari is hale and hearty.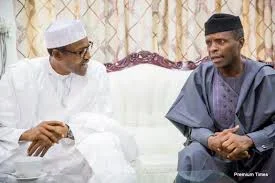 Osinbajo spoke with State House correspondents shortly after meeting behind closed doors with the National Chairman of the All Progressives Congress, Chief John Odigie-Oyegun.
''The President is hale and hearty. I spoke to the President just this afternoon and we had a long conversation.''
"Just like he said in his letter to the National Assembly, he needs to go for a cycle of tests and once he sees the test results and gets medical advice, we expect him very soon.
"I think that the health status of Mr President is an issue that only Mr President would discuss at the appropriate time. Again he is running test and all of that, before you will be able to determine your health status, you must be able to say this is my health status, do the test my doctors have advised me to do and will wait for the outcome of the tests and know my status."