The All Progressives Congress, APC has refuted claims by the Peoples Democratic Party, PDP that the newly appointed APC youth leader, Dasuki Jallo Waziri is 53 years old.
According to a statement issued by Lai Mohammed, the APC said, "We have been able to confirm that the APC Youth Leader-Elect Dasuki Jallo Waziri was actually born on the 13th of April 1971 and that puts his age at 43 and not 49, 52 or 53 as being falsely circulated.
"This is not to say a 43 year old man is ideal to be our Youth Leader but simply to put the records straight, while the party leadership continues to listen to the voices of concern by our teeming youths", the statement added.
Yesterday, the PDP Youth Frontier had condemned the appointment of Waziri saying that, "A 52-year-old man is no longer within the age of youth more or less youth leader. The whole thing is lamentable".
"It is improper, undemocratic and archaic and outdated for a political party in this new dispensation to award a contract of producing youth leader to a Senator, this is unheard of", the PDP had said.
Also, Special Assistant to President Goodluck Jonathan on new media, Reno Omkri had taken to Twitter to send a sarcastic congratulatory message to Waziri.
See Omkri's message below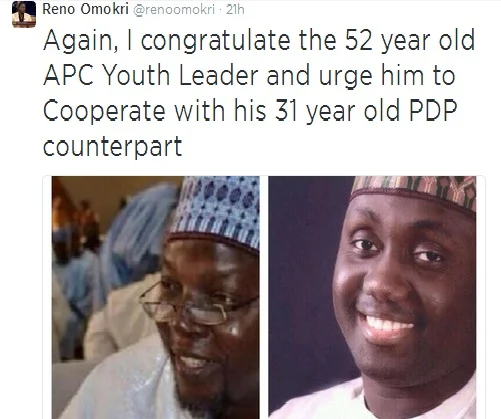 #APC #PDP #RenoOmkri