United Nations Children's Fund (UNICEF), has expressed worries that the continued violence in the Northeast region of Nigeria, has led to the displacement of more than 1.2m children in the zone.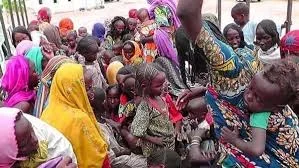 This is just as the Minister of State for Foreign Affairs, Khadija Bukar Ibrahim, disclosed that Internally Displaced Persons (IDPs) would soon be relocated as soon as reconstruction of their homes is completed.
In a statement made available to The Guardian, yesterday, UNICEF D-Field Office said it has become urgent for international agencies and the Federal Government to immediately end the "unprecedented levels of violence against children in Nigeria in the recent past and present".
The message tagged, "Protect the rights of the child in the face of violence and insecurity: End child marriage", which was in commemoration of the Children's Day, was signed by the Media and External Relation Officer, Geoffrey Njoku.
UNICEF noted that violence, such as killings, abduction as well as suicide bombing by Boko Haram, have caused untold hardships on children domiciled in the Northeast.