The wife of a former Oyo State Governor, Mrs. Aderonke Olunloyo, joined thousands of residents of the Felele area of Ibadan on Wednesday to protest against the non-availability of electricity and "crazy bills" from the Ibadan Electricity Distribution Company.
According to PUNCH, the protest came five days before IBEDC is to appear before the Oyo State House of Assembly, which summoned it over allegations of arbitrary billing, hoarding of prepaid meters and poor power supply.
The protesters blocked the road leading to the community from the Challenge end of the main road, while five police vans were stationed in the community to forestall a breakdown of law and order.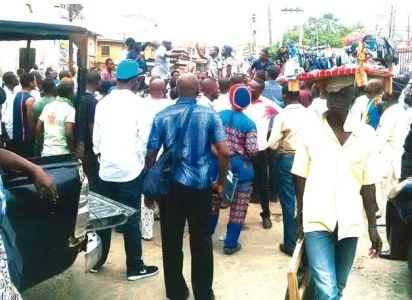 Leader of the police team, Chinedu Oko, said although the protest was peaceful, it was wrong to block a public road, while also persuading the protesters to channel their grievances to the relevant authorities.
Olunloyo told PUNCH hat IBEDC had failed in its responsibility to supply electricity to the Felele area, while neighbouring communities enjoyed its services.
She said it was a situation that had persisted for more than 10 years.
"The last time we had electricity was two months ago and it lasted for only a few minutes. When we complained, we were told that electricity would not be supplied to the area for six months.
Source: PUNCH