The National Caretaker Committee of the Peoples Democratic Party has asked the Deputy Senate President, Ike Ekweremadu, to call the bluff of the All Progressives Congress senators who asked him to defect to their party in order to retain his seat.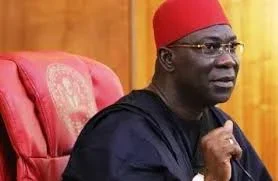 The APC senators, who are in the majority in the Senate, had asked Ekweremadu to defect from the PDP to the ruling party so that he could continue to have their support.
Speaking through its spokesperson, Prince Dayo Adeyeye, the Ahmed Makarfi-led Caretaker Committee, PDP said the call on Ekweremadu was unconstitutional and undemocratic.
He said, "Our attention has been drawn to a statement credited to Senator Kabiru Marafa on the floor of the Nigerian Senate on Wednesday, January 11, 2017, in which he advised Senator Ike Ekweremadu to defect to the APC in order to remain as the Deputy Senate President.
"This call is unconstitutional, undemocratic and, to say the least, unbecoming of Senator Marafa."
Adeyeye, said there was no section of the constitution that stipulated that one must belong to the ruling party to hold an elective office in either the Senate or the House of Representatives