Following the scarcity of petrol on Monday across the country, illegal hawkers of the commodity on the black markets resurfaced in parts of Lagos, Abuja and other cities, selling the product for between N200 and N300 per litre to desperate motorists and other users.
According to Guardian, the Nigerian National Petroleum Corporation (NNPC) has assured that the queues will soon fizzle out as the corporation announced its collaboration with the Major Oil Marketers Association of Nigeria (MOMAN) and other downstream industry players to end the resurgence of fuel queues in some major cities, especially Lagos, and its environs.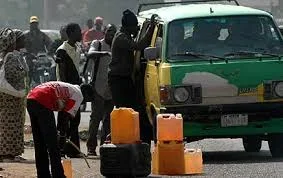 In a statement yesterday, the NNPC stated that it had secured the commitment of the leadership of MOMAN to jointly ensure that the queues disappear in the days ahead by ramping up supplies across the country.
To achieve this, truck-out to filling stations in the Lagos area has been increased from the regular 245 to 295 trucks per day (9.7 million litres) while truck-out to fuel stations in Abuja from Suleja depot has been stepped up to 210 trucks per day (6.9 million litres) from the regular supply of 160 trucks per day. A similar increase in supply volume has been activated in the Port Harcourt, Calabar, Kano and Kaduna areas to ensure the availability of petrol in every part of the country.