Ojora of Ijora in Lagos State, Oba Abdulfatah Aremu Aromire has advocated the need to use rail transportation system to move petroleum products from Apapa tank farms to many parts of the country.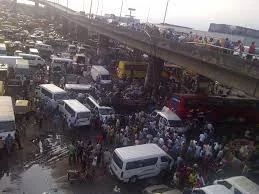 The monarch who spoke with Eko Trust also warned that bridges in the area are becoming weak and prone to collapse if nothing urgent was done to reduce movement of fuel tankers in the area.
He added that moving petroleum products via rail would reduce the number of petroleum tankers on the road and drastically address traffic gridlock in Apapa area of Lagos.
"I think we should revert to using trains to move petroleum products from all these tank farms. Train was a good means of transportation which used to transport this fuel and everything. Let us go back to it and this would reduce this traffic jam.
"My fear is this bridge, I don't want it to collapse. As the thing is going on now, if it is not controlled, there would be a big problem. My suggestion is let us remove all these tank farms." He said.