The Presidency has ordered the immediate return of the Egbesu sword which was seized by the Nigerian Army last year at Gbaramatu Kingdom in Warri South Local Government area of Delta state.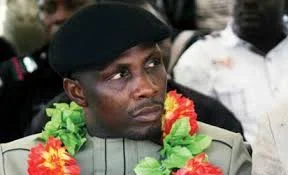 The golden sword described as the symbol of authority of the Gbaramatu, was reportedly confiscated by soldiers from the 4th Brigade, Benin City, in May last year while searching for ex-militant leader, Government Ekpomukpolo, alias Tompolo.
According to VANGUARD, a top source from the Presidency who spoke anonymously said, "To show his determination and commitment to create a new understanding and atmosphere between the government and the communities, the President in fact, gave an order after the Vice President's visit to Gbaramatu that an investigation be conducted to determine what happened during an alleged military raid of Gbaramatu community where the kingdom's Golden Sword was allegedly taken away.
"The presidential order also directed that a search for the golden sword of the kingdom, allegedly confisticated, if this is found to be so, should be recovered and once located, promptly released to the kingdom with an apology."