The African Development Bank (AfDB) has approved $1 billion loan towards meeting the deficits in Nigeria's 2016 Budget, believed to partly responsible for the country's economic crisis.
AfDB President, Dr. Akinwunmi Adesina, disclosed these to State House correspondents on Monday after meeting with Vice President and other members of the Economic Management Team (EMT) at the Presidential Villa, Abuja.
Stressing that Nigeria is the largest shareholder of the bank, Akinwunmi said the bank is in Nigeria to offer its strong support to the country as it faces tough time.
He said: "African Development Bank (AfDB), we have a very strong delegation team to meet Vice President and the economic management team. The bank's largest shareholder is Nigeria. It is very important for me to be here and to talk to the Nigerian government about the challenges and opportunities that are in Nigeria.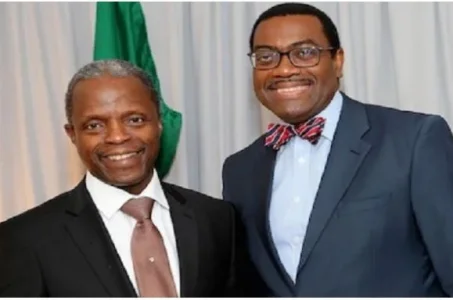 "I'm not here to lecture the Nigerian government. I'm here to support very strongly. We have said that we are going to support the Nigerian government with the budget support to be able to deal with some of fiscal imbalance that they have. We are looking to consider for an award of $1 billion to help to deal with that particular deficit."
Commenting on the loan, Finance Minister, Kemi Adeosun said what had been a great relief to the economic team was the synergy between "what we're trying to do and what the AfDB, repositioning under Adesina, is trying to focus on. And most of the sectors, the specific programmes that the bank has are the very areas we want to focus on the economy."
She said while the government was looking unto the AfDB for $1bn budget support, "but beyond that, there are lots of loans and initiatives around agriculture, job creation or the youths, solid minerals, women empowerment and women's access to finance, access to finance to the SMEs."
Asked about the interest rate on the loans, the minister responded: "Its concession is way below two%. It's about 1.2%. We're not over borrowing, what we're trying to do is to ensure that this money we're borrowing, we use it on the key infrastructure that will drive the economy."