A representative of the Federal Ministry of Works, Nelson Olubakinde explained that the construction company, Reynolds Construction Company (RCC) is facing challenges of finance, irregular climate condition, especially rain, and impatience on the part of road users often resulting in accidents within work location.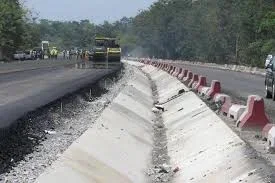 He said, during the rainy season, artwork and asphalt laying activities are usually suspended.
He also said the project had reached 25.98 percent completion in spite the various challenges.
Apart from ensuring the stability of the project, the representative of the ministry said a sub-section of the road had been opened for use in the last one year to pave way for correction of any defect.
In a report by NAN, the construction contract valued at N96.3 billion commenced on June 4, 2014 and had a completion date of July 3, 2017