Reno Omokri, former Presidential aide has weighed in on the sexual allegations scandal plaguing Apostle Johnson Suleiman of the Omega Fire Ministries, OFM.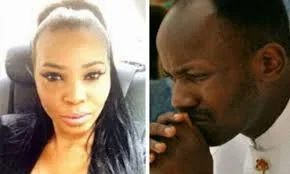 In a Facebook post Omokri wrote, "Some of you are here on facebook spitting venom on Apostle Johnson Suleman for an accusation whose veracity you are not sure of.
I just read from a fellow on facebook who wrote a statement with a lot of ifs. You are filled with ifs and yet you are making judgments? Rather than give the man the benefit of the doubt, you start casting aspersions and slurs.
Do not wait until it happens to you before you know that there can be smoke without fire. If you have too much bile and venom inside you, then unleash on corrupt politicians. But before you bury Apostle Suleiman, I will urge you to wait until he dies.
Apostle Suleiman, I do not think you are guilty, but no matter the case, in good times and bad times I will stand by you!"