Rihanna was honored with Humanitarian of Year at the Harvard Foundation on Feb. 28, 2017.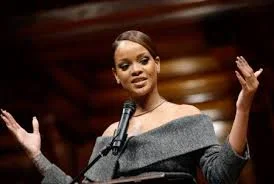 The singer was honoured for work in her native island of Barbados and the charities she has founded over the years, the Harvard Foundation for Intercultural and Race Relations.
Receiving her award, the singer joked, "So I made it to Harvard," and flipped her hair.
"Never thought I'd be able to say that in my life, but it feels good."
See video: