Nigerian Senate has stood down President Muhammadu Buhari's request for the confirmation of Independent National Electoral Commission, INEC RECs for two weeks in protest against Ibrahim Magu's continued headship of EFCC.
The Senators at Tuesday's plenary were baffled over what they termed as "disrepect" to the legislative body from President Muhammadu Buhari's appointees.
"Lets hear from President Muhammadu Buhari on Magu's case.
"Magu is terrorising us, because we disqualified him", Senator Francis Alimikhena, APC, representing Edo North senatorial district said this while making his submission at the plenary.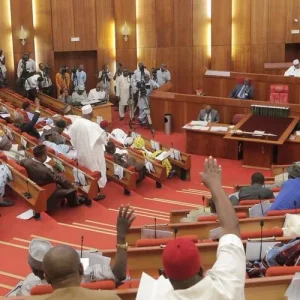 Sen. Uroghide also supported the Senate to stand down confirmation of INEC RECs, citing Magu's case, that after their decision he is still acting Chairman of the EFCC.
Deputy Senate President, Ike Ekweremadu said there's a time frame to stand down the confirmation and implored the Senate President Bukola Saraki to convey their feelings to Mr. President.