Senator Shehu Sani, Senator representing Kaduna Central has accused some persons who are close to President Muhammadu Buhari of benefiting from the humanitarian crisis caused by boko haram in the North East.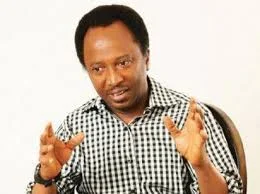 Senator Sani who is also the vice chairman, foreign affairs committee and chairman, Senate adhoc committee on humanitarian crisis in the Northeast, made the disclosure in a recent interview with VANGUARD.
Sani said, "our preliminary investigation and report have shown to us and to the nation that public office holders who are close to the president simply use the opportunity to award contracts indiscriminately and in the process not being able to achieve the major aim of addressing the sufferings and hardship of which people in the Northeast are undergoing in the last few years."
"The insurgency that has ravaged the Northeast has created thousands of orphans and widows and the most we can do for them is to commit resources and see to it that they return back to their lives, but we have not done that," Senator Sani stressed.