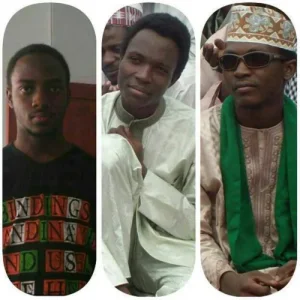 12 Nigerian Shiite Muslims were reportedly killed by the Nigerian Military in the early hours of today as they staged a march in Zaria, Kaduna State to express sympathy with the plight of Palestinians in Gaza who are under constant bombardment by Israeli troops.
The Shiites said a woman nursing a baby and two other women were among those killed, adding that six other members of the Islamic sect, including Mahmud Zakzaky, their leader's son, were also shot dead. In addition, security agents arrested three sons of Sheik Ibraheem Zakzaky, the leader of the Shiite group.
Ibrahim Musa, editor of the sect's publication,
Almizan
, said, "two children of Sheikh Ibraheem Zakzaky have been shot dead while in custody of the soldiers that arrested them."
He added that the sect sent an ambulance to the army barracks to retrieve the sheik's sons' corpses, but the soldiers detained the ambulance and its occupants.
If their account is true, then it brings to three the number of Sheikh Zakzaky's children killed by Nigerian security agents in today's operation, Sahara Reporters say.
Abdulhamid Bello, a spokesman for Mr. Zakzaky, described the military attack on the procession of Shiites as a clear abuse of power and violation of the fundamental rights of the sect members.
Nigerian military authorities in Zaria and Abuja have issued no reaction on today's bloody encounter.