The paramount ruler of Seimbiri Kingdom, Delta State, and former National Chairman of the Traditional Rulers of Oil Minerals Producing Communities of Nigeria, TROMPCON, His Majesty Pere Charles Ayemi-Botu, has said that South-South geo-political zone was not part of the defunct Biafra.
Ayemi-Botu was reacting to a statement by a Movement for the Actualization of Sovereign State of Biafra, MASSOB, Solomon Chukwu, that South-South region was part of Biafra territory was unfounded.
He told Vanguard newspaper that: "Ordinarily, one would not have reacted to Solomon Chukwu's incredible statement that the South- South geopolitical Zone is part of defunct Biafra that ceased to exist after the 30 months, July 6, 1967 Nigeria – Biafra civil war that ended on January 12. 1970."
"It is pertinent to ask how old was Solomon when the war broke out and how did he come to the conclusion that he knew the history of the Biafran ( Igbo )struggle for self -determination much more than those who actively took part and were in the theatre of war.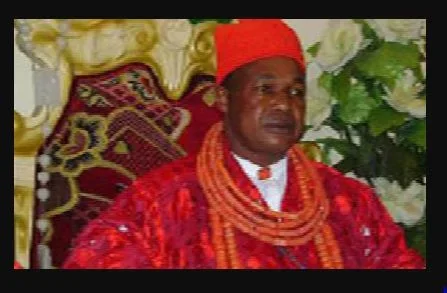 "Perhaps, Solomon Chukwu did not know before the 1967 civil war, there were only four Regions in Nigeria, Northern, Eastern, Western and Midwest. The four regions have their headquarters in Kaduna, Enugu, Ibadan and Benin in the same order and four military governors.
"And when Lt-Col. Odumegwu Ojukwu proclaimed the then Eastern region as the Republic of Biafra with Enugu as the capital, all the rest ethnic nationalities, including those in Cross River, Rivers/Bayelsa and the present five Igbo states were in Biafran enclave and were consequently liberated, thus leading to the end of succession in 1970," he asserted.
The monarch added: "From the foregoing analysis, there is no justification whatsoever for Solomon Chukwu to give wrong assertion or imposing or annexing south- south to south-east, my candid and fatherly advice is for us to embrace dialogue and allow peace to reign, there is no sustainable part to peace through war – war but through jaw – jaw."