Police said a suicide attack in Afghanistan's central Parwan province killed four police officers and nine civilians on Monday.
General Mohammad Mohammadzai, the province's Police Chief, said the Taliban militant attack also left 17 people wounded and most of them were civilians.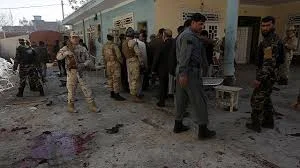 He said the attack occurred near a health center, according to the Afghan Pajhwok news agency.
A doctor quoted in the Pajhwok report said two of the wounded were in critical condition.
The Taliban claimed responsibility for the suicide attack in an email sent to media outlets.
A recent UN report said that 62 per cent of the more than 11,000 civilian casualties and injuries in the Afghan war were caused by Taliban and other insurgents in 2015.
- Al Jazeera‎