The former aviation minister and Senator representing Anambra North at the Upper chamber, Mrs. Stella Oduah has disclosed facts behind the behind the 255M scandal which made national news and cost her the appointment as a minister under former president Goodluck Jonathan administration to Naij, an online news platform.
In the interview, the Senator and oil mogul talked about her motivation, passion and also what keeps her going as a businesswoman and a politician and her roles in Goodluck Jonathan sojourn to power.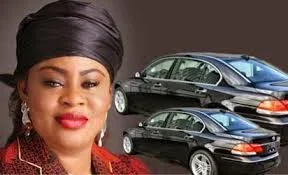 She said "We did not buy BMW to start with. BMW was a lease vehicle to the parastatal, NCAA. NCAA had to do so because their expatriates coming in at the peak of Boko Haram literally refused to come to Abuja unless they had a bullet-proof car and security vehicle with them. We went to several car dealers to lease it, It didn't make sense to me that we were going to have short term leasing for this so the DG wrote a proposal that they do not have the money nut on their budget, they had operational security vehicle. I don't know the difference between bullet-proof and operational security. It means a vehicle that is secured so when you are going to any of those states, you can have some sense of security. He came to me as a minister, I approved it that he should go ahead and lease".
Read more on
NAIJ