At least nine people have been killed and 30 injured in a twin suicide bombing in northern Cameroon on Friday (2 June).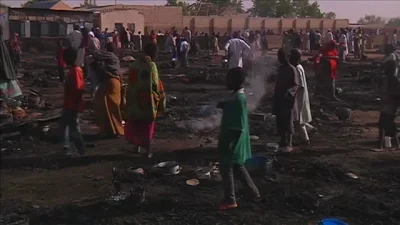 The suicide bombers detonated explosive devices near a camp hosting people displaced by an ongoing insurgency at then hands of Nigeria-based Boko Haram terrorists.
Early reports claim the two male bombers were disguised as female refugees and entered the town of Kolofata, around 10km (6 miles) from the border with Nigeria, before dawn, then pretended to be looking for food before the start of the daytime fast observed by Muslims during the holy month of Ramadan.
"Once among the population, they detonated their explosives, one after the other. The official death toll is 11, including the two suicide bombers, and 30 wounded," Mindjiyawa Bakary, governor of Cameroon's Far North region, said.
A policeman present at the scene of the bombing said:
"It was unbearable. People were screaming. Others were moaning. It was total horror."
At least 10 of the wounded people have been transported to a nearby hospital. No group has claimed responsibility for the blasts, but suspicion is likely to fall on Boko Haram, which has often carried out attacks in northern Cameroon.
Source: Reuters