Prophet T.B. Joshua in a new prophecies to his congregation at The Synagogue Church Of All Nations (SCOAN) called for prayer for President Muhammadu Buhari's health.
Prophet Joshua on Sunday said: "I have some burning issues which I want to share with you," Joshua began before breaking his silence on the tensions currently engulfing Nigeria in the wake of Buhari's prolonged absence on medical leave in the United Kingdom.
"Your president has good intentions. Good intentions cannot be carried out alone without good followers".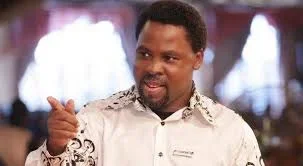 "The priority of every Nigerian citizen now is the good health of your President because it can be anyone's turn tomorrow. What you wish for others, God makes happen to you."
"More importantly, we also have to rise up and pray that the Lord should give us the grace to sustain democracy. Pray for an uninterrupted democracy," he said, much to the surprise of the congregation.
Calling on congregants to rise up in prayer for President Muhammadu Buhari, he prayed specifically for "strength where there is weakness."
On foreign exchange crisis, the Prophet said the Naira would reach a ratio of 650 to one US Dollar on the black market before it stabilises "if the system agrees with Divine will."
Joshua said these issues would continue to plague the country till June 2017.