Fresh trouble is brewing in Onitsha, Anambra State, following an alleged abduction by the military of 18 injured members of the Indigenous People of Biafra and MASSOB, from a private hospital where they were receiving treatment, New Telegraph reports.
The disclosure came yesterday, just as former Governor of the state; Dr. Chukwuemeka Eziefe said that President Muhammadu Buhari is stoking the agitation for Biafra by his systematic discrimination against the South-East in appointments because of the voting pattern of the zone in the last elections.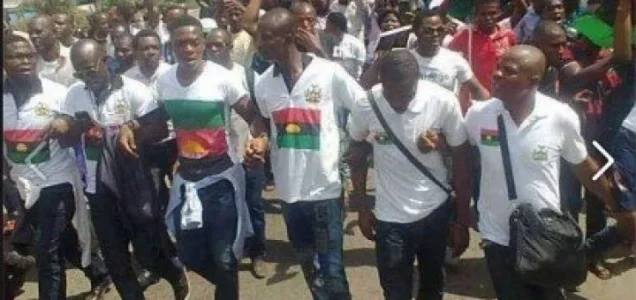 According to him, by the President's failure to ensure that an Igboman occupied one of the first five key government positions in the country, and denying the region in particular, of the office of the Secretary to the Government of the Federation, he has left the people of the South-East without an option. Sunday Telegraph gathered that the abduction in Onitsha has compelled the groups to consider a re-reprisal attack because the members were yet to recuperate after their last encounter with soldiers attached to the 302 Military Cantonment Onitsha on order of the Commander, Col. Abdulahi.
The Area Commander of the Nigeria Police Force in Onitsha, ACP Phillip Ezekiel said the police had no problem with MASSOB for now, urging our correspondent to contact the army on the whereabouts of the victims. A statement issued by the Campaign for Democracy in the South-East zone endorsed by Mr. Uzor A. Uzor, made available to the Sunday Telegraph claimed that attacks on members of the group have continued.
Source