After a bomb killed about 21 people in #Nigeria, the Nigerian players have said that they are more determined to do well in #Brazil.
The bomb exploded in the midst of a crowd watching Brazil play #Mexico on a giant screen in #Damataru, capital of Yobe state, on Tuesday night.
Nigeria's players held a minute's silence before they started training under the floodlights in Campinas, outside Sao Paulo, on Wednesday.
"It's unfortunate, especially as it concerns football," said team media officer Ben #Alaiya of the attack.
"It further boosts the determination of the players to do well against Bosnia and win for them because it's the love of football that led to so many people dying, while they were watching the game. It's sad that it happened."
Click here to read more
Source: DailyTimes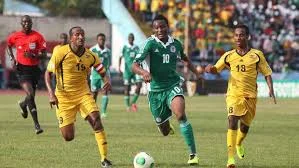 #DailyTimes