The Muhammadu Buhari and Yemi Osinbajo ticket that won the 2015 General elections was a peculiar one in that it represented the different strengths and weaknesses of the Nigerian society.
The balance in the Buhari/Osinbajo ticket was commendable. On the plus side the ticket represented Nigeria's two most recognized religions - Christianity and Islam , it also reflected the North/South alliance. The religious and cultural insecurities of Nigerians were also reflected on the ticket.
Almost two years in, it has been an interesting journey. The strengths and the weakness of the Buhari/Osinbajo ticket have been laid bare. In many aspects both men are opposites while exactly alike in so many ways.
Considering the reduced attacks by Boko Haram in Northern Nigeria, one would be tempted to say that the General and the Overseer make a good team. Buhari's military track record has helped rally a demoralized army. But did the general open too many fronts of conflict? Could the Niger Delta issue have been handled differently to prevent further economic woes? In the absence of the general, the overseer has taken a softer approach with the issue, visiting the region a couple of time already to meet with stakeholders.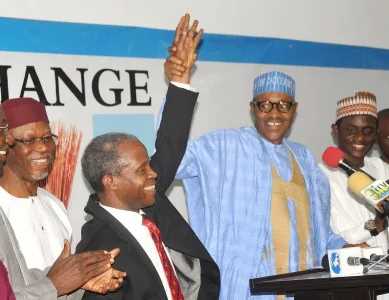 President Buhari and VP Osinbajo would appear to be the 'yin and yang' required at this time in Nigeria. We need the cautious, distant, reassuring symbol of an elder statesman that commands/demands respect across the board. This we have in the general. Unfortunately in a complex country like Nigeria, it is simply not enough. Leadership, in this age, is also about commanding the stage and taking believers with you on the journey to a better place. That is wear the VP, if given the chance, could help the current administration.
The air waves recently has become laden with messages of religious intolerance and calls for action by self-acclaimed men of God. Osinbajo and Buhari ; Christian and Muslim are a key factor in maintaining religious balance and avoiding unnecessary blood shed. A muslim President will never allow a Christian VP to Christianize Nigeria and neither will a Christian VP allow a Muslim President Islamize Nigeria. What they do about pockets of unrest outside their own regional comforts is a totally different matter.
It is time to quicken the pace and go beyond rhetoric to set a proper foundation for the development of a nation.
The General and The Overseer, a match made in heaven? We will see!
--
Article written by: Juliana Morgan
This article appears as part of the Nigerian Bulletin Weekly (NB Weekly)
Click here to Download your free copy now
Last edited by a moderator: