Troops of the 5 Brigade Nigerian Army say that they have destroyed all Boko Haram camps and enclaves at the border towns of Kerenowa and Chikun Gudu, as well as their contiguous villages in Borno State.
The revelation was made known by the acting Director of Army Public Reations, Colonel Sani Usman during the destruction.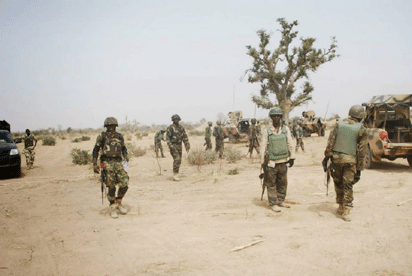 He added that the troops discovered and destroyed over 20 well-fortified terrorist camps in the general area of Kerenowa.
According to Colonel Usman, the troops have also discovered that to evade aerial reconnaissance and bombardment, the terrorists have dug twin tunnels to conceal their facilities and routes in and out of the camp.
He added that among facilities discovered were training areas equipped with instructional and training materials that include wooden guns and others.