Two young Nigerians have been arrested by UAE police in Sharjah, the third largest city in UAE, following Dubai and Abu Dhabi men living in Sharjah, the third largest city in UAE after Dubai and Abu Dhabi have been arrested after UAE
The police raided their apartment and recovered a large number of fake $100 bills.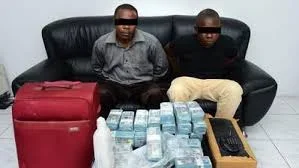 The culprits said they used the fake currency to convince people that they could perofrm magic by doubling their money and make them rich.
Colonel Ibrahim Al Ajill, Director of the Criminal Investigation Department (CID), said they
received a tip off about the scam activities of the two suspects and raided their apartment. Tools and bags used in operation were also recovered from them.
The police said two of the suspects are in the UAE on a visit visa. The police has referred the case for public prosecution.