UK foreign secretary, Boris Johnson visited The Gambia on Tuesday, hailed President Adama Barrow's decision to rejoin the Commonwealth.
Mr. Johnson took the chance to poke fun at exiled former leader Yahya Jammeh, who had taken his country out of the grouping in 2013, describing it as a "neocolonial institution".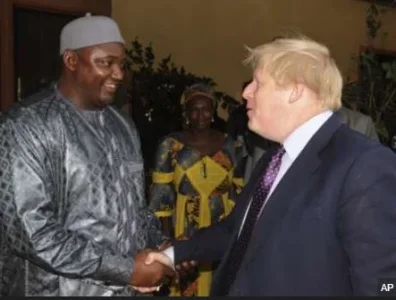 According to BBC report, the UK foreign secretary used old-fashioned British slang - "Jammeh Dodger" to describe the former Gambian dictator, Yahaya Jammeh.
BBC said the term: "jammy dodger" can be used to mean "lucky person" (in a teasing tone) in British slang, so perhaps he was saying that Mr Jammeh was lucky to have made his escape after eventually losing power.