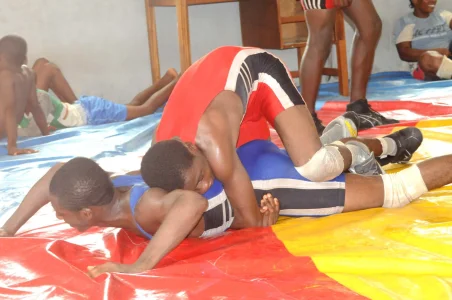 Nigerian wrestlers will have to wait to know if they will compete at the 2014 Wrestling World Championships after the host country,Uzbeksitan exercised fears about allowing athletes from countries that have a connection with the dreaded Ebola Virus disease(EVD).
The Wrestling championships will commence on September 8 in Tashkent,with Nigeria billed to take part in the competition.
Amid fears of Ebola,Uzbekistan health officials revealed that they will make a decision this week whether to allow athletes from countries that have certified traces of the virus.
An unnamed official of the Uzbekistan's Ministry of Public Health was said to have told Interfax,that international Wrestling Federation(FILA)specifically requested to have some athletes admitted for the championship.
"Wrestling's international ruling body has sent a letter to the country's Ministry of Public Health asking it to allow the athletes from the Ebola-hit countries to participate in the championships at Tashkent."
FILA requested to have seven wrestlers from Nigeria and two from Sierre Leone allowed to compete in the games.
Nigeria had to withdraw from the Youth Olympic Games held in China,following the discrimination they got in Beijing because of Ebola.