Arsenal FC manager, Arsene Wenger has admitted he does feel sorry for Hull City following Alexis Sanchez's handball goal but insisted he was not responsible for refereeing decisions in the game.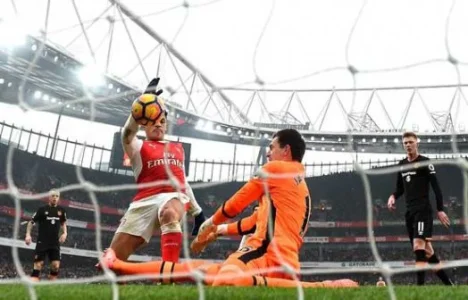 The Chilean scored the Gunners' first against Hull with his arm causing uproar from the away side.
Wenger said though the goal was scored under controversial circumstances, it was the lucky break the Gunners needed to end the recent run of defeats and revitalize hope for the side's quest for the top four.
He told journalists after his side's 2-0 win over Hull city:"I feel sorry for Hull city but the goal was the lucky break we needed.
"Of course. When you lose two games on the trot and you're Arsenal you face a good storm.
"The only answer is to win the next game, or you face even more.
"I've been at Arsenal for 20 years and if you were to look back one day and saw I lost three Premier League games on the trot you would be surprised."
Alexis Sanchez scored the Gunners' goal first under controversial circumstances as the ball deflected in off the striker's arm on the line.
The Chilean then doubled Arsenal's lead in stoppage time converting from the penalty spot after Hull's Sam Clucas used his arm to prevent Lucas Perez from scoring.