President Muhammadu Buhari on Thursday met with the Service Chiefs at the Presidential Villa in Abuja.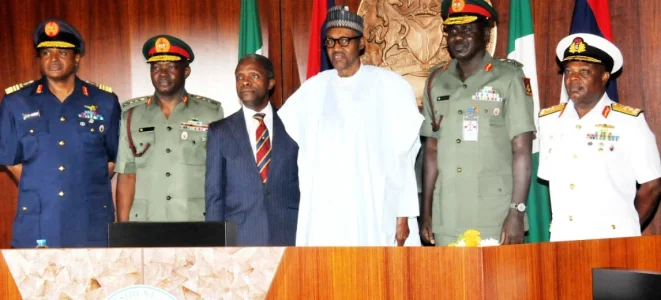 Issues discussed included the killings in Southern Kaduna, the insecurity challenges in the Niger Delta and other parts of the country.
Minister of Defence, Mohammed Dan-Ali, who made the disclosure to newsmen after the meeting, added that troops had been moved to Southern Kaduna while negotiations were on-going to end the killings in the area.
Asked if Nigeria will send troops to the Gambia should there be violence if Gambia's President, Yahaya Jammeh refuses to step down, the Minister said that no conclusion had been reached on the issue yet.
He stressed that the matter of forceful removal of President Yahyah Jammeh was to be handled by the ECOWAS regional body.