Apprehension grips The Gambia as the Thursday deadline for President Yahya Jammeh to step down looms, it's all calm at State House, which he has occupied for the last 22 years, BBC reporter who visited the capital city reports.
BBC Africa, Umaru Fofana said soldiers and police officers are neatly dressed in their well-ironed uniforms; their berets are well positioned.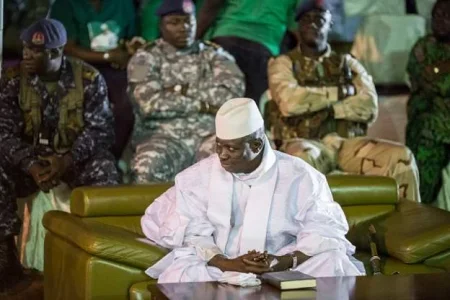 "The gates are well manned, with armed soldiers on duty. Even security personnel must go through metal detectors to enter the building. So it seems that despite the calmness nothing is being taken for granted".
"They even joked, slapping my hand fondly as they greeted me. There was no sign of any tension or panic", he said.
The Economic Community of West African States (ECOWAS) has given the embattled President of The Gambia, Mr. Yahya Jammeh, till midnight tomorrow to vacate office and hand over power to the country's President-Elect, Mr. Adama Barrow, or be ousted by force.