Family of the rescued Chibok girl and the Bring Back Our Girls Campaign are demanding wherebaout of the escaped schoolgirl, Amina Ali Nkeki.
In a statement Wednesday night marking the 800th day of the mass abduction that outraged the world, Bring Back Our Girls also asked what the government is doing to try to rescue the other girls.
"Even this morning people came to my house asking if I had been able to find out her whereabouts. It's outrageous! Some people are crying! We don't understand why the government wants to keep her family away," Yakubu Nkeki, an uncle of Amina Ali Nkeki, told The Associated Press by telephone on Thursday.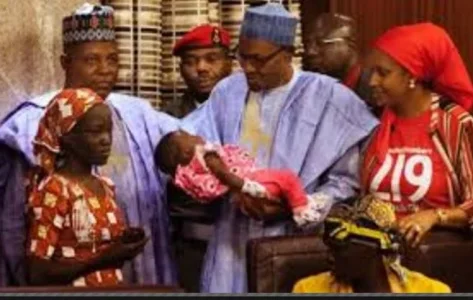 Ali was flown to the capital, Abuja, two days after her escape for a televised meeting at which President Muhammadu Buhari promised her the best care and rehabilitation.
The Bring Back Our Girls movement says no one has seen her since, not even leaders of the Chibok community where the girls were kidnapped. It says Ali has said some of the girls have died but most are alive, raising hopes they could still be rescued.
Source: AP