The Chairman of the Code of Conduct Tribunal (CCT), Umar Danladi yesterday barred Nigerian Senators from attending trial with the Senate president, Bukola Saraki.
Danladi declared that the Senate was not on trial before the CCT, therefore the lawmakers had no reason being in court daily. Umar consequently asked them to stay back at the Senate and conduct their constitutional duties.
Umar who spoke against the backdrop of the request by the counsel to the Senate President, Chief Kanu Agabi (SAN) for an adjournment to enable to senators sit, noted that it was the personality of the accused, who happened to be the Senate president who was on trial and not the entire Senate.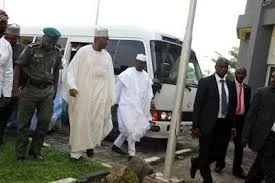 Earlier, objecting to Agabi's request, the prosecution counsel, Rotimi Jacobs (SAN) said it was shameful and disgraceful to the nation that the senators were in court as according to him, they were not parties and as such, not needed to be in court.
"The Senate is not on trial. The senators should sit down and do their work. They don't need to be here. It is shameful and disgrace to the nation".
- Guardian