Senate President Bukola Saraki has said that he cannot reverse Ali Ndume's suspension by the Nigerian Senate on the plea of Borno State governor, Ibrahim Shettima.
Mr Saraki stated this on Monday, in an interview with State House correspondents after meeting behind closed doors with President Muhammadu Buhari at the Presidential Villa, Abuja.
He said he had no power to reverse the suspension of a former Senate Leader, Ali Ndume because being a Senate President or Speaker of the House of Representatives only make them first among equals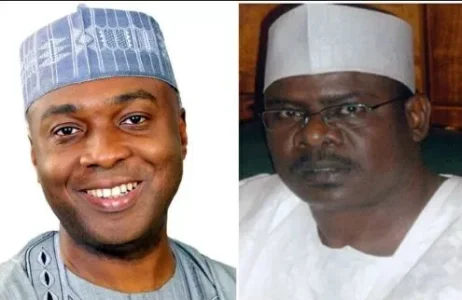 He said he would only convey the message of the Borno State Governor on the matter to the larger house that suspended Ndume.
Related: Governor Shettima, Borno Elders Meet Saraki Over Ali Ndume's Suspension
Recall that Borno State Governor, Kashim Shettima, and some northern elders had approached Senate President Bukola Saraki and other lawmakers Thursday night to mediate and sought for reversal of the suspension on Senator Ali Ndume.