Gambia's First lady, Zineb Jammeh, has expressed firm love and support and love for her husband, President Jammeh. In an interview with the Daily Observer, the first lady described President Yahya Jammeh as a very devoted leader who is able to ensure peace and stability in a country.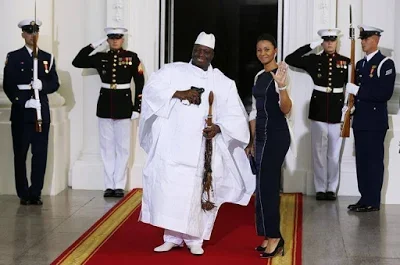 "It is never perfect, but it is very important to acknowledge the positive. It is important to say what is negative but never forget to acknowledge what is positive as well," she stated.
Zineb Jammeh said this while on her traditional visit to Edward Francis Small Teaching Hospital (EFSTH) in the capital of Gambia, Banjul to meet the new born babies of 2017 to present them with her gifts for her foundation Operation Save the Children Foundation (OSCF).
This is her first interview since President Jammeh refused to step down after he lost the December 1 election to Adama Barrow.
Jammeh initially accepted the results of the election but on December 9, he reversed his position and said he would challenge in the country's Supreme Court as the poll was riddled with irregularities.